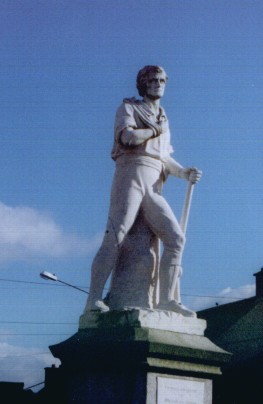 Memorial to Michael Dwyer in the town square, Baltinglass
Michael Dwyer was born in the Glen of Imaal in 1772. His father John Dwyer farmed there with a half mile of Seskin. The old farm ran down town banks of the river Slaney. His mother was a local Girl Mary Byrne. Michael Dwyer was the eldest of seven. In 1874 his family moved to Eadestown. His involvement in the fighting at the Glen of Imaal led to his being hounded by the English. Dwyer joined the United Irishmen and was deeply involved in the Glen of Imaal organisation. Fiction reveals the Glen as a wild mountain are but its generally acknowledged there were many prosperous farms in the area. The Glen itself is closed and is used as a shooting range by the Irish Army. It is owned by the State. Dwyer recruited a man named Larry Byrne and united the people of Aughavannagh and Glenmalure. Dwyer used the well known Black Banks as a quick exit to Glenmalure. The British Yeomanry lived locally.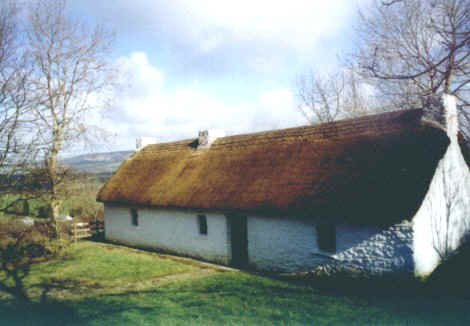 Michael Dwyer's cottage in the Glen of Imaal
On the 29th May, 1798, word reached Dwyer of the success of the rebels at Oulart Hill and with his friends Dwyer spent the night in the cave in Lugnaquilla and with his friend walked to Vinegar Hill in County Wexford where he made contact with the combined Wicklow and Wexford forces. After the battle of Arklow Dwyer joined with a contingent of Wicklow men, this was to reduce the pressure in the battle of Hacketstown. The withdrawal of the rebels from Hacketstown resulted in one section returning to the Glen of Imaal. Byrne was separated from the main body and with a large force of crossed to Glenmalure. The following day they joined Dwyer in the Glen of Imaal. Dwyer was responsible for the defence of the Glen and this resulted in a regiment of highlanders being camped at the entrance to the Glen of Imaal in the town land of Leitrim. Their mascot was an Irish Wolfhound.
The Battle of Derrynamuck
In February 1799 Dwyer and companions took refuge from a snowstorm in Miley Connell's cottage on Hoxie's Farm. An informer told the garrison in Hacketstown where Dwyer was located Dwyer's men were accommodated at houses convenient to Hoxie's Farm. A party set out from the garrison at Humewood, the sentry's were surprised and failed to raise the alarm. The troops surrounded each cottage and of burning the men surrendered. The troops agreed with Dwyer to the Connell family leave the cottage safely. Dwyer shouted out that he and his companion would fight to the death. Two rebels were shot dead and Sam McAllister was wounded in the arm. McAllister opened the front door and drew fire on himself and while the soldiers were reloading their muskets Dwyer escaped.

View of the Glen of Imaal from Dwyer's Cottage [click on the above photo to see the fullsize panorama]
All photographs on this webpage are the Property of Wendy Lucas ©Copyright Wendy Lucas 2000